Lumenis is Proud to Support the First International Scar Treatment Conference in Israel
February 22, 2017 – Yokneam, Israel
Lumenis Ltd., the world's largest energy-based medical device company for surgical, aesthetic, and ophthalmic applications, announced that it will be supporting the first International Scar Treatment Conference in Israel, which will be held in Tel Aviv, on February 22nd, 2017.

The primary focus of the conference is an interdisciplinary approach for successful management of scars, and it will feature many key scar experts from around the world, including Dr. Peter Shumaker (US), Dr. Jill Waibel (US), Dr. Matteo Tretti Clementoni (Italy), Dr. Gerd Gauglitz (Germany), Dr. Ofir Artzi (Israel) and more.

"The management and treatment of cutaneous scars is a major burden in healthcare," said Dr. Ofir Artzi, MD, Head of the Center for Aesthetic Dermatology at Tel Aviv Sourasky Medical Center and one of the conference organizers. "It is estimated that approximately 100 million people develop scars after trauma and elective surgery every year - 15% of them will require certain intervention for their scars due to aesthetic considerations or functional impairment. I am very proud to be the chairman of this first international scar treatment conference."

Many of the panelists and attending physicians who regularly use the Lumenis® UltraPulse® in their practice for the treatment of scars, will be featuring the technology for scar revision during the conference. Quickly becoming the standard of care for scar patients around the world, the Lumenis® UltraPulse® has multiple options for maximum versatility, speed, and efficacy. The Lumenis® UltraPulse® SCAAR FX™ has the deepest impact per pulse for treating thick, complex lesions, helping to change the quality of care and life of these severe scar patients.

"I've been using the Lumenis® UltraPulse® SCAAR FX on my scar patients, including well-known patients such as Tanya St-Arnaud, an acid attack survivor, and Kim Phuc, a survivor of the Vietnam War bombing who is recognized as 'The Girl in the Picture,'" said Dr. Jill Waibel. "It has truly changed their lives. Helping these patients heal and improve their quality of life is the most rewarding gift."

International Scar Treatment Conference attendees are invited to attend sessions and workshops featuring a variety of Lumenis systems for skin and scars treatment including UltraPulse®, the most powerful CO2 laser in the aesthetic medicine, AcuPulse™ -MultiMode™ SuperPulse™ CO2 Laser and M22™ - modular multi-application system for the treatment of over 30 skin conditions. The full agenda can be found here.

"Our treatment, utilizing the unique UltraPulse technology, yields truly remarkable results for burn scars", said Tzipi Ozer-Armon, CEO of Lumenis. "As a company, we are honored to lead and advance medical solutions of this nature to benefit veterans around the world and the population at large. Lumenis is proud to support the first International Scar Treatment Conference in Israel, and looks forward to continuing to support these incredible doctors and their efforts."

For more information about the Lumenis family of fractional ablative laser resurfacing products and its portfolio of innovative scar treatment solutions, please visit the Lumenis booth # 6-7 at the conference, presented in cooperation with Alphamedix, the Lumenis distributor in Israel.

About Lumenis
Lumenis is a global leader in the field of minimally-invasive clinical solutions for the Surgical, Ophthalmology, and Aesthetic markets, and is a world-renowned expert in developing and commercializing innovative energy-based technologies, including Laser, Intense Pulsed Light (IPL) and Radio-Frequency (RF). For 50 years, Lumenis' ground-breaking products have redefined medical treatments and have set numerous technological and clinical gold-standards. Lumenis has successfully created solutions for previously untreatable conditions, as well as designed advanced technologies that have revolutionized existing treatment methods. For more information visit: www.lumenis.com

Forward-Looking Statements
Information provided in this press release may contain statements relating to current expectations, estimates, forecasts and projections about future events that are forward-looking statements. These forward-looking statements may include but are not limited to the Company's plans, objectives and expectations for future operations, including its projected results of operations. Forward-looking statements are often characterized by the use of forward-looking terminology such as "may," "will," "expect," "anticipate," "estimate," "continue," "believe," "should," "intend," "plan," "project" or other similar words, but are not the only way these statements are identified. These forward-looking statements are based upon our management's current estimates and projections of future results or trends. Actual results may differ materially from those projected as a result of certain risks and uncertainties These forward-looking statements are made only as of the date hereof, and the Company undertakes no obligation to update or revise the forward-looking statements, whether a result of new information, future events or otherwise.

For further information, contact 5W Public Relations at Lumenis@5wpr.com.
Most popular Pages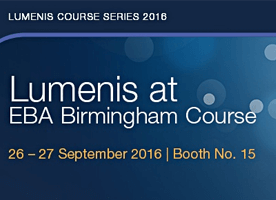 Sep 26, 2016 - Yokneam, Israel | By:
Lumenis Announces Participation in First Educational Course at the 17th European Burns Association Congress
Lumenis Ltd., the world's largest energy-based medical device company for surgical, aesthetic and ophthalmic applications, announced it will be the first laser company to participate in the European Burn Association's Educational course on 'Post Burn Reconstruction' at the 17th European Burn Association (EBA) Congress, being held in Birmingham, U.K. from September 26-27, 2016.
Read more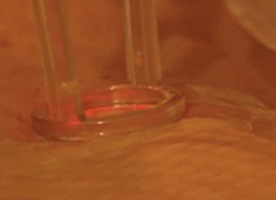 Jun 02, 2016 - Yokneam, Israel | By:
New Clinical Results on Use of UltraPulse® in Treating Patients Suffering from Chronic Radiation Dermatitis to be presented at the French Laser Society Meeting
New Clinical Results on Use of UltraPulse® in Treating Patients Suffering from Chronic Radiation Dermatitis to be presented at the French Laser Society Meeting
Read more